What are the rules of 'wife carrying'?
Comments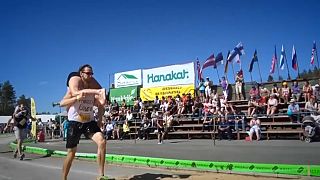 The 22nd Wife-Carrying World Championships took place in Finland, where the sport originated, on July 3.
Couples from all over the world including Somalia, Singapore and Hungary headed to the small town of Sonkajarvi to take part.
The race, which sees a male contestant carry a female counterpart navigating water, hurdles and sand pits, is said to be based on the 19th-century legend of 'Ronkainen the Robber', who supposedly tested aspiring members of his gang by making them lug heavy sacks of grain or live swine around a similar course.
Several types of "carry" are possible: A piggyback, a fireman's lift (over the shoulder), or Estonian-style (the wife hangs upside-down with her legs around the husband's shoulders, holding onto his waist).
What are the rules of the bizarre-looking sport?
- The minimum weight of the wife to be carried is 49 kilogram. If she is less than this, the wife will be burdened with a rucksack containing additional weight.
- The female participant does have to be legally married to the male, but she does have to be 17-years-old, or above.
- The official track length is 253.5 metres.
- The track contains two "dry obstacles" and a "water obstacle" that is around one metre deep.
- The only equipment permitted during the race is a helmet worn by the female competitor and a belt by the male competitor.
- Each competitor is responsible for his or her own safety…and insurance.
These are the international rules set by the International Wife Carrying Competition Rules Committee, but rules can vary depending on the competition.