China and Russia strike joint position on North Korea
Comments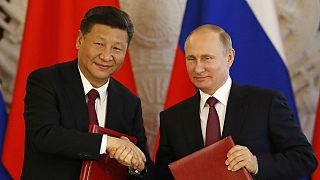 Russia and China say they have struck a joint position on North Korea, after Pyongyang said it successfully tested an intercontinental ballistic missile for the first time.
After a meeting in Moscow with his Chinese counterpart, President Putin said North Korea should declare a moratorium on nuclear and missile testing but the US and South Korea had to stop their military exercises.
Putin said: "We agreed to actively develop our mutual initiative based on Russia's step-by-step plan for a Korean settlement and Chinese ideas, at the same time freezing the nuclear capabilities of North Korea and large scale military exercises by the United States and South Korea."
A joint statement on the "de-escalation plan", issued by the foreign ministries of both countries, said: "The situation in the region affects the national interests of both countries.
"Russia and China will work in close coordination to advance a solution to the complex problem of the Korean Peninsula in every possible way."
Russia and China said the plan could set the stage for talks with North Korea, a country with which they both share a land border.
Earlier on Tuesday Russia's Deputy Foreign Minister slammed Pyongyang's latest test launch of a ballistic missile as a "breach of a UN Security Council resolution", according to the RIA news agency.
It cited the minister as saying that tensions with Pyongyang risked leading to "catastrophic developments" and the only way forward was to organise multilateral talks with North Korea.
After their talks on Tuesday, Beijing and Moscow also called on the US to halt its deployment of an anti-missile shield to South Korea.
The THAAD anti-missile defence system has been the focus of tensions for months.
Beijing says the shield "gravely harms the strategic security interests" of China, Russia and other countries in the region.
But the US and South Korea argue the system is only designed to defend the south from North Korea.
After the talks with Putin in Moscow, the Chinese President Xi Jinping said: "Overall I can say that my visit was very productive and gave a new impulse to the development of Chinese-Russian cooperation and strategic partnership."
The Chinese leader, who called in to Moscow for a state visit on his way to the G20 summit in Germany, was also awarded the top Russian St. Andrew medal of honour by Vladimir Putin.
Xi and Putin also signed numerous trade and cooperation agreements after their talks, in a ceremony attended by business delegations from both countries.
The visit of Xi to Moscow came amid tension between the US and China after an American destroyer came close to the territorial sea limits of an island that China claims in the South China Sea.
A Kremlin aid confirmed that President Putin will meet Donald Trump on the sidelines of the G20 summit in Hamburg, for their first face-to-face meeting.