UNESCO considers German cave art for World Cultural Heritage status
Comments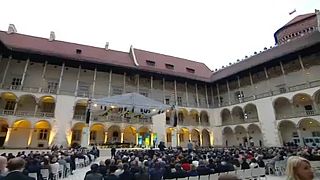 UNESCO's World Heritage List is holding its 41st. session in Krakov, Poland, and among the new Cultural sites being considered is a fascinating cave complex in the Swabian Jura in Germany.
There are six caves in all in two different valleys, the Lone Valley and the Ach Valley, and they are important because they hold the most abundant, richest and oldest record of early art works, along with musical instruments and a whole range of other innovations that are part of the cultural development of the time when modern humans spread across Europe and the Neanderthals were going extinct.
The Ice Age treasures being painstakingly excavated are the oldest known artworks in the world, and they include a six-centimetre mammoth ivory figurine, the "Venus of Hohle Fels", around 40,000 years old.
Germany is already blessed with no less than 41 architectural and natural UNESCO marvels.