Deadly bus and truck crash kills 14 in Russia
Comments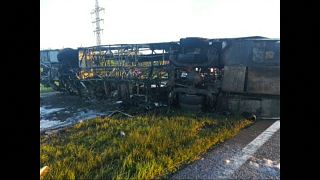 At least 14 people were killed including two children in a crash on a highway in Russia's Tatarstan region, as an intercity bus collided with a truck. Fifteen people have been taken to hospital, some in a critical condition, local media reported.
The investigators were quoted as saying that the driver of the bus which was travelling from the Eastern Russian city of Samara to Izhevsk may have been blinded by the headlights of the truck. After the collision the bus rolled over and caught fire.
Footage released by the emergency services showed the charred carcass of the bus in the middle of the highway and a truck lying on the road side. The drivers of both vehicles were taken in for questioning, investigators said.
Russia has a poor road safety record with over 20,000 official traffic fatalities last year.