'Chez Yvonne': The restaurant where Kohl dined with Chirac
Comments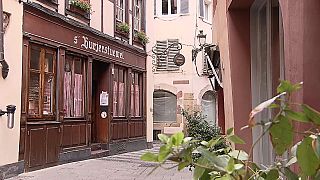 If the walls of one Strasbourg restaurant could talk, part of Europe's story would be told.
'Chez Yvonne' was where then German Chancellor Helmut Kohl used to meet French President Jacques Chirac in the mid to late 1990s.
Showing Euronews the spot where the pair dined, owner Marjolaine de Valmigère said: "It's exactly this table here, and he was sitting there with Jacques Chirac on the other side and they were eating choucroute and drinking beers."
Kohl, who died last month aged 87, will be remembered not only as the architect of German reunification but also as a driving force for European integration.
He and Chirac regularly discussed the relaunch of the European project and the key role of their countries – known as the Franco-German alliance or 'couple Franco-Allemand'.
This is restaurant Chez Yvonne in Strasbourg where Helmut #Kohl and Jacques Chirac discussed Europe next to a beer. #History on @euronewspic.twitter.com/a0rxg8fWIT

— Sándor Zsíros (@EuroSandor) 1 juillet 2017
"It's an important restaurant because Kohl and Chirac met there," said Professor Frédérique Berrod of the Political Science School at Strasbourg University.
"Kohl and Mitterand met there for a certain number of private discussions on the future of Europe. When he met Chirac, Chirac had just been elected. They discussed the implication of the 'couple Franco-Allamand' into the building of Europe. And it was the beginning of the negotiations of the Maastricht treaty."
And the rest is history.
with Reuters