UK's new aircraft carrier is a 'convenient target', sneers Russia
Comments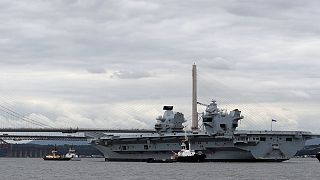 Russia's defence ministry has dismissed the UK's new aircraft carrier as a "convenient, oversized target" and warned it not to come too close, hitting back at jibes by a British minister.
UK defence minister Michael Fallon had hailed the launch of HMS Queen Elizabeth, the largest naval vessel ever built in Britain by making an unfavourable comparison with its Russian counterpart, the Admiral Kuznetsov.
"When you saw that old, dilapidated Kuznetsov sailing through the Channel a few months ago, I think the Russians will have looked at this ship with a little bit of envy," he said this week.
However, the Russians have responded by suggesting that Fallon had showed an "utter ignorance of naval science".
"The British aircraft carrier is just a convenient, oversized target at sea," Igor Konashenkov, a spokesman for the Russian ministry said in a statement."For that reason it is in the interests of the British royal navy not to show off the 'beauty' of its aircraft carrier on the high seas any closer than a few hundred miles to its Russian 'distant relative'."
The Admiral Kutznetsov was conceived at the height of the cold war and took to the seas at the end of the 1980s. It was widely mocked, including by Fallon himself, when it was pictured belching smoke as it chugged through the English channel on towards Syria.
However, the Russian defence ministry pointed out that as well as anti-aircraft and anti-submarine defences, it is equipped with Granit anti-ship missiles.
Perhaps of even more concern to the British Navy, however, is the planned successor to the Granit, a hypersonic missile which will be almost impossible to intercept using conventional weaponry because of its speed.
HMS

Queen Elizabeth in pictures