Colombia ceremony to mark end of FARC disarmament expected at 18h CET
Comments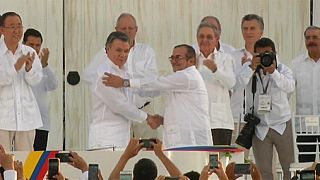 A ceremony to mark the formal end of the disarmament of FARC rebels in Colombia is being held in Mesetas, south of Bogota.
The United Nations has confirmed that the majority of weapons have been handed over, in accordance with a peace deal with the government.
The peace deal signed last year is aimed at ending more than half a century of war.
A small number of weapons will remain in the hands of some rebels for security at so-called demobilisation camps until they're closed on August 1.
The ceremony to mark end of FARC disarmament expected at 18h CET