'People ask: why do you help the dogs? Do you sell them for meat?'
Comments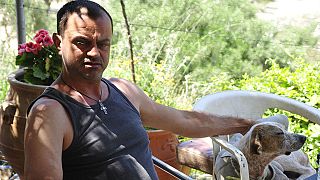 As Greece's economic crisis bites, families have been unable to feed their pets and abandoned dogs are have been discovered on rubbish dumps to die. Reporter Heidi Fuller-love meets the Cretan dentist who gave up his job to run a sanctuary which houses the strays.
The new generation are more sensitive with animals and in 15-20 years many things will be different

Takis Dog Shelter
Theoklitos Proestakis, pictured above, points to a large open air rubbish dump near his shelter in Ierapetra, in eastern Crete: "Every day I find dogs here – people throw them out because they can't feed them or they abandon them because they are sick."
Mr Proestakis, known as Takis, owned a nightclub until he was forced to close due to Greece's worsening economic crisis. "Then one day I went to the rubbish dump. I saw dogs with broken legs and the bone was out of the leg and all sorts of terrible things."
The poor girl is in shocking condition. #AnimalRights#shelter#dogs#rescuepic.twitter.com/G0n9aj0HC2

— TakisShelter (@1371Takis) July 23, 2016
Spurred by the sight of canine suffering in Crete, Takis began to adopt some of the injured pets. Struggling with debts himself, he sold his car and his caravan, and managed to buy a plot amidst olive groves to house the new additions. Thanks to donations, mainly from overseas, Takis now has 200 dogs in his shelter.
At first he had to cope on his own, but now he has volunteers who help him to keep the 6,000 metre plot spotless. The canines are separated into 17 different groups to prevent fights. Takis lives on site in a small converted container and is constantly ready to intervene if his dogs have a problem.
"I pet them, I play with them, but they have to understand I am the leader, otherwise I will lose control," he said.
Left to die in the middle of the road. https://t.co/HGWaWcuPYh#AnimalAbuse#Crete#dogs#rescue#shelterdogs

— TakisShelter (@1371Takis) July 5, 2016
When he has time, the ex-dentist makes videos of his rescue dogs and posts them to social media. Mousti's plight attracted a lot of attention.
"He was tied up on a short chain all of his life and when he was dying the owner just threw him on the rubbish dump."
Takis nursed the 15-year-old Doberman back to health. The dog now roams freely in the yard near his house.
Another, Fellnase, was skinned alive. Takis found the dying animal and against all the odds helped the dog to survive. Pictures posted on his Facebook page shocked and horrified overseas visitors, and donations came pouring in.
Although Takis is encouraged by the support he receives from overseas, sometimes he feels he's fighting a losing battle. "People don't castrate their dogs so there are a lot of abandoned puppies. There are vets from Germany who would come here to do free castration, but for some reason the mayor won't sign the papers," he explains.
A Shelter Welcome! #animalshelter#rescuedog#AdoptDontShop#TakisShelter#dogspic.twitter.com/juFrnbHeTg

— TakisShelter (@1371Takis) March 29, 2016
Takis estimates that he spends around 1,300 Euros a month to feed the strays and another 700 Euros a month in vet bills, since the dogs are generally in bad health when he rescues them.
"You can't save them all and there is very little help here in Crete. Local people think I am crazy: people say 'why do you help the dogs? Is it for money? Do you sell them to get meat?'"
Takis points out that the negative effect on tourism is considerable. "If they are not careful the problem will be huge, because so many tourists come here and they see these badly treated dogs and they say they will never return."
He does see some light at the end of the tunnel, however. "The new generation are more sensitive with animals and in 15-20 years many things will be different and I think they will be better for the animals," he says.