Eight things you should know about Romania's new prime minister
Comments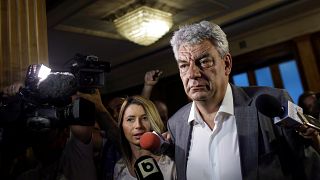 Mihai Tudose has been named Prime Minister of Romania, after a nomination from his Social Democrat Party was approved by President Klaus Johannis.
Here are 8 things you need to know about him:
1) Tudose, aged 50, has twice been economy minister. Most recently under prime minister Sorin Grindeanu, who was ousted by his own party after a vote of no confidence in June.
2) But his performance as minister has come under scrutiny, after an internal review of the government found Tudose completed few of the measures he hoped to achieve.
3) According to Tudose's public wealth declaration, he owns an apartment in his home town Braila with his wife, and two Mercedes cars. He also owns a stamp collection valued at around 30,000 euros. Alongside his hobby of stamp collecting, he claims to be a chess master.
4) He has a master's degree in European economic policy from the National School for Political and Administrative Studies and has completed further courses at an institue linked to the Romanian Ministry of Foreign Affairs.
5) In 2016 he was forced to renounce his PHD in military science and information after becoming embroiled in a plagiarism scandal involving his thesis. Responding to the allegations, he said in an interview at the time: "Maybe I was a bit negligent but it was like doing a geometry work: I cannot claim to have invented Pythagoras' Theorem".
6) The Romanian Intelligence Service has rejected claims it was involved in nominating the new prime minister, following questions about Tudose's close links to the institution. Tudose was named an assistant professor at the National Intelligence Academy, a university run by the intelligence service, in 2011 and an associate professor in 2013.
7) He previously spent seven years as the head of the senator's office and a year as a legal adviser to a trading company in Braila, according to his public resume.
8) He has been a member of parliament in the Chamber of Deputies since 2000, winning five elections.