More than 30 migrant boats left Libya for Europe on Sunday
Comments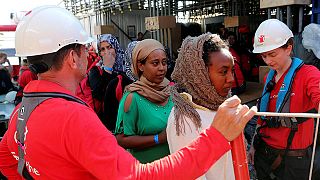 More than 30 migrant boats left Libya for Europe on Sunday (June 25), "probably because of the end of Ramadan," according to the Migrant Offshore Aid Station (MOAS).
Sea Watch said that there has never been so many rescued migrants on board its ship. More than 300 men were on board, along with 26 women, four of whom were pregnant, and 17 children.
Italian police released video footage on Monday showing the arrest of three suspected people smugglers.
They were picked up among 267 migrants who had been transported to the Sicilian port of Pozzallo.
Some witnesses said the suspected smugglers drove a wooden boat and dinghy that set off from the coast of Libya heading to Italy.
Defence Forces release footage of migrant rescue in Mediterranean https://t.co/WWl7LXfSx3pic.twitter.com/akUfOreT1r

— Irish Examiner (@irishexaminer) June 26, 2017