Equatorial Guinea Vice President Teodorin Obiang stands trial on charges of money-laundering and embezzlement of over €100 million of public funds
While over half the country lives in poverty, Equatorial Guinea's vice president was on trial in Paris for using €100 million of public funds to fuel his lavish lifestyle in France.
Teodorin Obiang, a 48-year-old whose father has been president since a 1979 coup, faces a maximum 10 years in prison and a fine of up to €50 million.
In a case over a decade in the making, the list of his extravagant purchases in France include:
A 101-room Paris mansion, bought for €25 million in 2005 including a Turkish bath, hair salon, two gyms, a nightclub and a movie theatre. Though, the International Court of Justice ruled it had legal status as a diplomatic mission, giving it immunity from any further searches or seizures of any property or documents without permission of the head of the mission.
Two yachts, the 76-metre 'Ebony Shine', which was seized in the Netherlands, and the 90-metre 'Ice', worth around €250 million, though he and the Guinean government say they are state property.
Dutch judge rules that mega yacht 'Ebony Shine', property of #Obiang of Equatorial Guinea, should remain in NL pending corruption charges pic.twitter.com/HNLSA2Jo8S

— PJ Kleiweg (@PJKleiweg) April 15, 2017
Around €50 million in furniture and art including:
A €5.6 million Edgar Degas pastel and five works by Auguste Rodin, worth €1.5 million.
Yves Saint Laurent and Pierre Bergé collections worth over €20 million
a vintage clock worth almost €5 million.
300 bottles of Château Pétrus, one of the world's most expensive wines, to the tune of €2 million.
Nine luxury cars seized from the Paris estate were auctioned off in 2013 for €2.8 million, including:
Two Bugatti Veyrons
Two Bentleys
A Ferrari 599

GTO

A Rolls-Royce Phantom
A Mercedes Maybach 62
A Maserati MC 12
A Porsche Carrera 980 GT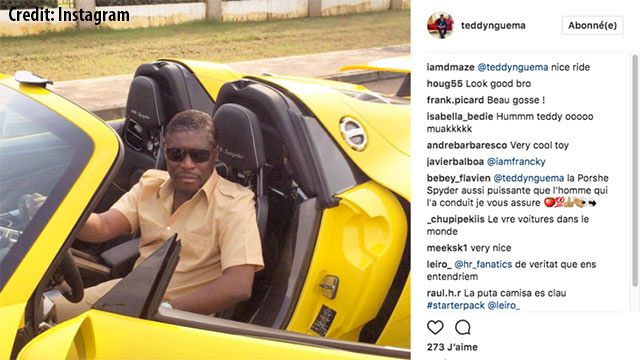 The Swiss government also seized 11 luxury cars belonging to Obiang last year, including the Koenigsegg One:1, one of only seven ever produced.
With a yearly salary of under €100,000, French prosecutors said he used his former post of agricultural minister to line his pockets, exerting influence over the country's timber industry.
In 2014, he agreed to a $30 million settlement in the U.S., which resolved similar allegations that forced the sale of his Malibu mansion and various pieces of Michael Jackson memorabilia.