Pakistan oil tanker blast kills more than 140 people
Comments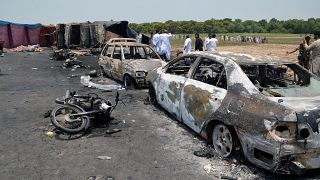 In Pakistan, at least 146 people have been killed and scores injured after an oil tanker jacknifed on outskirts of Bahawalpur in Punjab province.
Many of victims were collecting leaked fuel when they were caught in a massive fireball which took several hours to bring under control.
Eyewitness Mohammad Rashid said: "Some villagers were getting oil, others just came to see this incident. Some people say someone lit a match to smoke a cigarette, suddenly there was an explosion and it struck the villagers. My uncle escaped but his son died,"
It is thought up to 20 children may be among the dead. Police say they tried to clear the area before the explosion but many people simply ignored their warnings.
The driver of the tanker survived the crash and is now in custody.
Volunteers serving #Iftar at Nishter Hospital #Multan For the Victims of Oil Tanker Fire Incident #Bahawalpur & their caretakers.#FIFReliefpic.twitter.com/uf3jwlZ7BZ

—

FIF

Pakistan (@FalaheInsaniat) June 25, 2017
Once again in #Bahawalpur it is the Army thats taking care of the injured. The democratic govt is reduced to huge statements.

— Mubasher Lucman (@mubasherlucman) June 25, 2017
Sad to hear that 123 people burnt died while collecting oil frm tanker. They nvr knew that Greed is curse, May their souls RIP. #Bahawalpur

— Abaidullah Aslam (@Abaidulah_Aslam) June 25, 2017
Hundreds Burnt alive while collecting oil from a leaking tanker

Poverty is a curse that leads to greed for the sake of survival#Bahawalpur

— SymmetricParanoid (@Symmetrication) June 25, 2017
The accident happened the day before Pakistan celebrates the Eid al-Fitr festival, when families get together to celebrate the end of the fasting month of Ramadan.
Many bodies were burned beyond recognition and television pictures showed piles of burnt out motorcycles, apparently those of people who were collecting fuel or watching events unfold.
Oil is a precious commodity for villagers in Pakistan, where more than 60 percent of the population survives on $3 a day, according to a World Bank survey.