What will happen to EU citizens in the UK after Brexit?
Comments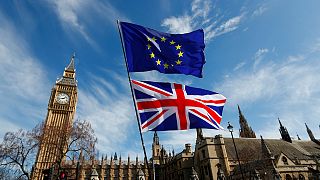 UK Prime Minister Theresa May has pledged that no European Union citizen living in the UK before the official decision to leave the bloc will be forced out of the country.
Speaking in the House of Commons, she appealed directly to EU citizens saying "we want you to stay" as she sought to reassure people and put their "anxiety to rest".
May told MPs the offer was "fair and serious" as she outlined her position ahead of negotiations over the coming weeks as European leaders push for a better deal for their citizens.
Here is a summary of the current proposal:
All EU citizens lawfully living in the UK before March 29, 2017 will be able to remain indefinitely if they wish.
The exact cut-off date is still be negotiated but the UK says it cannot be after March 29, 2019 when the country's EU membership is due to end.
EU citizens will be able to remain for five years, after which time they will be given "UK settled status". Citizens who have already been in Britain five years can get this immediately.
UK settled status will confer the same rights to healthcare, education, benefits and pensions as British nationals.
The proposal is conditional on the same rights being given to UK citizens living in Europe.
May also said she did not wish to split up families living in the UK but did not offer specifics on how spouses and children of EU nationals who do not themselves have EU citizenship will be treated. Nor whether family members living in the EU will be allowed to join relatives already in the UK.
She said: "No families will be split up. Family dependants who join a qualifying EU citizen here before the UK's exit will be able to apply for settled status after five years.
"After the UK has left the European Union, EU citizens with settled status will be able to bring family members from overseas on the same terms as British nationals."
She did not spell out the process for EU citizens with settled status gaining full British nationality.
She told MPs that there will be "no cliff edge", and that there will be a grace period for people to regularise their status.
Another question is who would enforce the rights of these people. The EU wants the European Court of Justice to have a role, while London insists British courts have jurisdiction.
There are 3.2 million European Union citizens living in the UK and 1.2 million Britons living in the EU.