Euronews tests Skills profile tool designed for refugees
Comments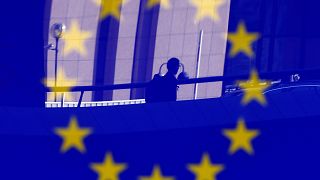 Are you comfortable with basic geometry? Calculations using percentages? Do you know how to make pottery? These are the questions asked to refugees as part of the Skills Profile Tool recently launched by the European Commission.
#SkillsProfileTool will help identify skills of refugees & define next steps needed to make integration a success: https://t.co/xaANU8kIgopic.twitter.com/Xd3CQQkwru

— European Commission (@EU_Commission) 20 juin 2017
According to developers, it will support an early identification of the skills of refugees, migrants and other third country nationals. It should help the user to produce a skills profile, and advisors in identifying any recommendations or next steps. It may be used as part of an interview process to get to know the individual, their skills, qualifications and experience. Only the name and permission to store and share details sections are obligatory. Other parts are all optional. The tool contains "personal information", "expectations", "skills identification", "overall appraisal and recommended next steps" and "summary" categories. Users can add (and remove) as many expectations as they wish.
Besides formal education and work experience in the category "skills acquired outside the workspace" the tool tries to explore a variety of skills the person might have. Taking care of livestock? Mending clothes? Preparing meals? Answering "Yes" to the latter prompts a new popup – "For how many people?"
The numeracy subdivision of the skills identification section can be puzzling for those not familiar with the terminology – there is no definition given for what basic geometry actually means? Users are asked if they are familiar with the metric system. And also whether they need a calculator for everyday maths. When Euronews tried the test we were asked the same question again two answers later- but then the tool is in Beta
(3 images)
In the literacy skills part, users are asked whether they read regularly and questioned about their skills writing and filling out documents. All the questions in the left corner are duplicated in English if that is the chosen language. Arabic speakers see something like this:
The tool will be available in more than five European languages and also in Arabic, Farsi, Pashto, Sorani, Somali and Tigrinya. Each question can be asked in English + one more language, native to the third country national. Like this, both the advisors and the applicants can look at the form together.
It takes at least one hour to answer all the questions. In the end, it can be downloaded as a pdf file and printed, looking very much like a CV.
Speaking about practicality of the tool, the audience present during the launch voted the following way

Audience voted on possible added value & key features of #SkillsProfileTool – here are the results! Follow us LIVE: https://t.co/oMYQTdav3opic.twitter.com/1L83euwkz5

— EU Social (@EU_Social) 20 juin 2017
Some countries, like Sweden are already using similar tools.
with