Refugees' integration starts with education: the example of Avlona elementary school
Comments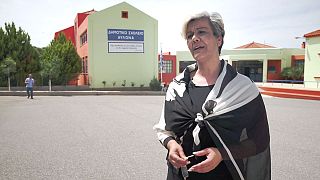 2.500 refugee children have started going to official Greek schools this year thanks to a transportation programme financed by the EU Humanitarian Aid department and run by IOM, the UN Immigration Agency. Avlona elementary school has accepted 20 refugee children.
Efi Kremou, Headmaster, Avlona elementary school:
"We have the difficulties that concern all children that came from a different country to our country during their first days, before integrating into our educational system."
The education process will continue for refugee children when the schools will open in September, the Ministry of Education assures.
Niko Karaiskos, coordinator of education, Greek Ministry of Education:
"Refugee children in camps are going to start again in september in a revised programme that we send them to day schools and not afternoon classes. They are going to be together with Greek children morning classes they are going to be taken to reception classes for the Greek language, maybe some other subjects, they are going to do together".
Efi Kremou, Headmaster, Avlona elementary school:
"We have the know-how, we have the schedule, we have the planning and we have the willingness. Our schools, my school included, are open and ready".
*The video is in Greek