Ambitious project in New Zealand for world's last building by late Austrian artist Hundertwasser reaches funding target
An ambitious plan in New Zealand to construct what is described as the world's last building by the late Austrian artist and architect Hundertwasser has reached its multi-million dollar funding target.
An art centre project that Friedensreich Hundertwasser started working on before he died in 2000 is being revived in the country's North Island, thanks to the iconic artist's original designs and sketches and a remarkable community-led fundraising effort.
Hundertwasser had settled in New Zealand in the later part of his life.
Great day for Northland and the arts – I've announced $3m to complete fundraising for the Hundertwasser Arts Centre DrShaneRetiMP</a> <a href="https://t.co/GnjvF0YZec">pic.twitter.com/GnjvF0YZec</a></p>— Hon Maggie Barry (maggiebarrynz) June 15, 2017
Building work is now due to begin before Christmas on the Hundertwasser Art Centre with Wairau Maori Art Gallery in the city of Whangarei, after the required funding was raised just ahead of a June 30 deadline.
There was jubilation among the thousands of people who have supported the on-again, off-again project over many years.
This is local resident Steve Sharp's impression of what the building will look like when finished: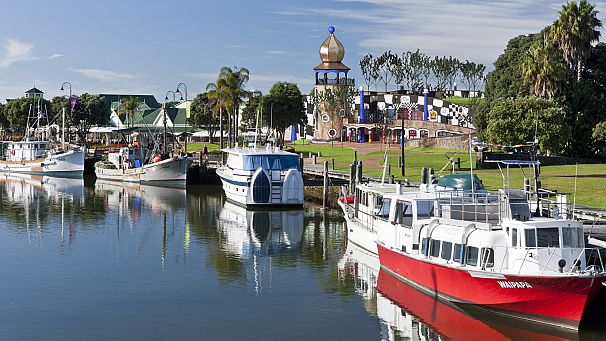 Vienna-born Hundertwasser – famous for his colourful abstract paintings and quirky architecture that ignores the traditional standards of shape and balance – adopted New Zealand as his new home after visiting the country during an exhibition of his work there in 1973.
The artist went on to gain New Zealand citizenship and bought land in the picturesque Bay of Islands, the perfect place to explore his views on man's interaction with the natural environment and the need to challenge boundaries in art and architecture.
This video explains more about Hundertwasser's love affair with New Zealand and the story behind the art centre project:
Embracing the indigenous Maori culture, Hundertwasser even designed an alternative New Zealand flag using the Maori symbol of the "koru", the unfurling frond of a silver fern plant.
I'm still partial to Hundertwasser's 1983 redesign of the New Zealand flag. pic.twitter.com/ctvEXTqwRQ

— Kathryn Hayward (@kat_hayward) December 15, 2015
In accordance with his wishes when he passed away, Hundertwasser was given an "ecological burial" under a tree on his farm near the town of Kawakawa. He was laid to rest naked and with no coffin, in what he called the "Garden of the Happy Dead".
The artist left behind impressive buildings in numerous countries, often turning eyesores such as industrial sites into spectacular works of art.
The Hundertwasser House and Hundertwasser Village in Vienna have become major tourist attractions.
People often say that no line is ever straight in the architect's work, and no shape or matching-up of colours too bold.
Hundertwasser was even brought in to work his magic on a church in Austria.
The Church of St. Barbara in Bärnbach stands out for its use of symbols from different world religions and even the use of Maori symbols such as the "koru" and the small "tiki" carvings of human-like figures.
Take a tour of the church in our video slideshow:
Several building projects designed by Hundertwasser were completed after his death but it is considered that the art centre in New Zealand will be the last authentic Hundertwasser building in the world.
This video shows a "top ten" of Hundertwasser buildings:
Hundertwasser is often compared to Gaudi for his architectural style and Klimt for his artwork.
On-again, off-again NZ project
It has been a long and controversial road for those New Zealanders keen to see Hundertwasser's original art centre project see the light of day.
The only other architectural footprint he left in New Zealand – or in the Southern Hemisphere for that matter – was a colourful block of toilets opened in Kawakawa in 1999.
The toilets, which have become a tourist attraction, are said to have been the last Hundertwasser project completed in his lifetime.
A4: Diverting to Kawakawa, NZ, just for the toilets! These are the amazing Hundertwasser toilets gnome_trotting</a> <a href="https://twitter.com/hashtag/TRLT?src=hash">#TRLT</a> <a href="https://t.co/ZGz5A7UqZc">pic.twitter.com/ZGz5A7UqZc</a></p>— Karen Warren (WorldWideWriter) March 28, 2017
But the art centre in Whangarei, about 160 kilometres north of Auckland, was supposed to be much bigger and even more dazzling.
It was in 1993 that Hundertwasser was approached by the then Mayor of Whangarei to design an art centre that would give the city a boost.
The artist relished the mission he had been offered in his adopted country, getting to work immediately.
Hundertwasser identified a former harbour authority building in the city's Town Basin. He spent some time examining the site and seeing how he could turn it into one of his unusual landmark buildings admired around the world.
However, in 2000, at the age of 71, Hundertwasser died of heart failure on board a cruise ship in the Pacific Ocean.
It was about eight years later that the original sketches and architectural ideas were recovered from his archives and the art centre project was restarted.
It seemed Whangarei would finally get its Hundertwasser building when the district council got in behind the project, getting the approval of the Hundertwasser foundation in Vienna, and fundraising began.
But then in 2014 new councillors were voted in and the project was taken off the agenda. Hundertwasser fans were angry that the city would lose the chance to build what was said to be the last authentic Hundertwasser building in the world.
Massive community-led fundraising drive
Slowly but surely a public movement gained momentum, seeking alternative ways to get the project completed and pushing for a local referendum that ultimately saw residents back the idea for the Hundertwasser project in 2015.
Here is a video that helped get people in behind the fundraising drive:
The plan is to have several galleries and work by Hundertwasser on display.
An important part of the project is the Maori art gallery, described as the country's first dedicated to Maori fine art.
The organisation behind the fundraising efforts, Prosper Northland Trust, had until the end of June to raise the necessary NZ$16.25 million dollars for the project in order to win a go-ahead from the Whangarei District Council.
With less than two weeks before that deadline the target was beaten by more than five million dollars.
This after the country's Lottery Grants Board and the New Zealand Arts and Culture Minister, Maggie Barry, stepped up to the plate with large contributions.
Barry revealed that she had changed the rules to enable such a regional project to benefit from "heritage funding".
Great news – whangarei boost https://t.co/q7NoVIX0He

— Lynn Clayton Photogr (@KiwiGran1) June 15, 2017
But it really was a community-led battle to revive Hundertwasser's original plans.
In just two years NZ$21.7 million was raised by an organisation that relied entirely on volunteers.
Great news for WhangareiHAC</a> and Whangarei. Well done <a href="https://twitter.com/DrShaneRetiMP">DrShaneRetiMP & maggiebarrynz</a>. A big step forward for region <a href="https://t.co/X6AAEO1iRY">https://t.co/X6AAEO1iRY</a></p>— Steven Joyce (stevenljoyce) June 16, 2017
Thanks to tourism, the art centre is expected to pump millions of dollars into the region's economy and attract more than 140,000 local and foreign visitors every year.
The building, which will also include a theatre, learning centre, café and shop, is due to be completed by 2019.
The ground at the site is expected to be "broken" before the end of the year.
Hundertwasser centre to include dedicated Māori art gallery https://t.co/tYMo7Euty8

— Brent Edwards (@rnzbrentedwards) June 17, 2017
HUGENEWS! Hundertwasser Art Centre reaches build cost goal! https://t.co/mE8QUMls0r

— Hundertwasser NZ (@WhangareiHAC) June 15, 2017