Russia warning after US shoots down Syrian jet
Comments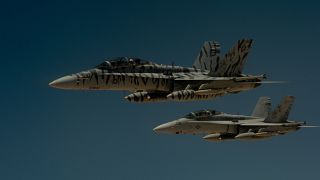 Russia's Defence Ministry said the Russian military will consider any flying objects within reach of its war planes as possible targets after the United States shot down a Syrian military jet near to Raqqa.
The US Navy shot down a Syrian war plane the US accused Sunday of dropping bombs near to US-backed troops fighting to recapture the city of Raqqa from ISIL.
The Syrian government says its military jet was attacked and brought down while flying a mission against ISIL in the region.
The incident has further dented Russia-US ties in the conflict zone and this strike is not the first time the US targets Syrian or pro-Syrian troops.
The incident prompted the Russian Defence Ministry to suspend an aerial agreement with the US in the skies above Syria designed to prevent inadvertent clashes between US and Russian war planes.
Russia supports Syrian President Bashar al Assad, while the US backs forces in the country hoping to oust Assad from power.
Both, however, are engaged in an air campaign against ISIL while a coalition of ground troops battles the militants on the ground.
But Russia says the US did not communicate with the Russian military before it attacked the Syrian fighter.
Russia's Foreign Minister Sergei Lavrov called on the US to respect Syria's territorial integrity and refrain from unilateral actions. Deputy Foreign Minister Sergei Ryabkov called the incident a dangerous escalation.
The US strike, which followed an air strike against pro-Syrian government forces last month, is the most significant since US President Donald Trump ordered a missile strike on a Syrian army air base in April.
The strike also comes as tensions mount between US-backed fighters and pro-government fighters on the ground near Raqqa.
US-backed Syrian Democratic Forces accused government troops Monday of bombing their positions near Raqqa since June 17 and threatened to retaliate if the attacks continued.