Naughty or nice? Brexit begins with gift exchange
Comments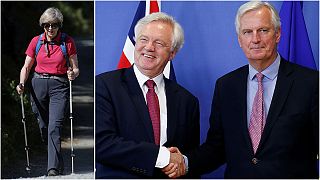 Brexit negotiations, which finally got underway today, are, for now, all smiles.
But, if you're any doubt about the slog ahead over smoothing the way for Britain to become the first-ever country to quit the EU, then just take a look at the gifts exchanged as talks began in Brussels.
EU chief negotiator Michel Barnier gave his British counterpart a hiking stick, while David Davis presented Barnier with a book on walking, according to Politico.
Both presents can be interpreted as mischievous and knee-deep in analogies.
Was Barnier's gift to Davis a tongue-in-cheek reference to the Conservatives needing something or someone to lean on in light of their disastrous election performance?
A nod, perhaps, to the fact they will require the support of the Democratic Unionist Party to command a majority in the House of Commons?
In the same vein, Davis' gift to Barnier, who hails from a mountainous region in south-east France, could also be interpreted as playful.
Was Davis warning Brussels, who seem to have the upper hand after May's election gaffe, that they should tread carefully in the negotiations?
Or was it just a nod to Barnier using a hiking analogy in a news conference last month when speaking about Brexit.
"If you like walking in the mountains, you have to learn a certain number of rules, you have to learn to put one foot in front of the other because sometimes you are on a steep and rocky path," Barnier said, referring to he and British prime minister Theresa May's shared love of walking.
"You also have to look at what accidents might befall you, falling rocks, you have to be very careful to keep your breath, you have to have stamina because it could be a lengthy path and you have to keep looking at the summit."