How Brexit could affect Spanish frontier workers in Gibraltar
Comments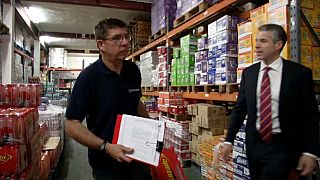 San Roque is one of the seven towns that form the Spanish region of the Campo de Gibraltar, where unemployment is endemic. In some cases, about 40 percent of the locals are jobless. There are many who find a solution a few kilometers away in Girbraltar, thanks to the one of the biggest employers in the Andalusia region, where the British flag flies.
Jesus Moya is a so-called frontier worker who is greatful for his job in Gibraltar.
"Gibraltar is the factory, it is a great factory for this area, there are 7,000 Spanish families, only Spanish, that put food on the table because of Gibraltar. Workers are concerned about the devaluation of the pound and exhaustive border controls for not belonging to Europe."
Brexit could affect about 12,000 workers who cross the border into Gibraltar daily. Over 50 percent of them are Spaniards.
Gibraltar has one of the lowest unemployment rates in the world, second to Qatar.
During times of increased tension between the two territories, the queues often drag on for hours.
"That's going to be one potential problem," pointed out Gibraltar employer Christopher Wall.
"If we cannot get a goods through the frontier we will have to find another way to find our goods. A bigger problem is a labour issue. Gibraltar as it is now depends on Spanish labour or at least of people known as frontier workers, who live in Spain but work in Gibraltar. It's difficult to imagine a present economy without the Spanish."
At least one-fifth of Gibraltar's workers are Spaniards. Brexit has brought uncertainty which is likely to last throughout the two years of negotiations. Whatever comes next could also be affected by the current political situation.
"On one hand, Theresa May's political weakness could be beneficial because it would force more negotiating flexibility," Jesús Verdú, professor of International Law, told Euronews. "The problem and what concerns us is that until now the position of Spain is very worrisome because it has used it more to impose a solution that everyone knows is not viable as that of co-sovereignty instead of using that position to look for a mutual beneficial solution for all parties."
The consequences of Brexit have already begun to show in the region. Andalusian shopkeepers complain of a drop in sales due to the devalued pound.