Quake kills woman, ravages houses on Greek island of Lesbos
Comments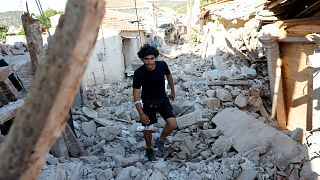 Collapsed buildings, piles of rubble and debris blocked the narrow streets of Vrisa, on the Greek island of Lesbos, after a 6.1 magnitude earthquake that struck the Turkish coast and was felt all the way to Athens.
A middle-aged woman died crushed by the roof of her home. At least 10 people were injured, the Associated Press reported.
The epicentre of Monday's quake was about 84 km (52 miles) northwest of the Turkish coastal city of Izmir, in the sea south of Lesbos. The island was at the forefront of a migration crisis two years ago when hundreds of thousands of war refugees landed there seeking a gateway into Europe.
The army set up tents for the displaced residents of Vrisa in a nearby football stadium.
A local fire brigade official said tens of brick houses had collapsed in the village and several roads were blocked.
Major geological fault lines cross the region and small earthquakes are common, though anything higher than 5.5 is rare and capable of causing extensive damage.
Picture gallery