Kidnapped Iraqi girl reunited with family after three years
Comments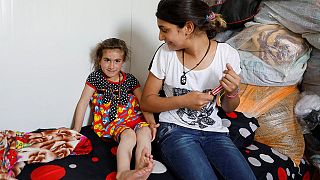 Christina, a six-year-old Iraqi Christian girl who was kidnapped by ISIL when her home town of Qaraqosh on the outskirts of Mosul fell to the militant group in 2014.
Now, after three years of searching Christina has finally come home.
The transition back to normal life will not be easy however, her mother, Aida, said.
"We are trying to help her understand because she does not know. She forgot that we are her family, but she will learn again," she told Reuters.
After efforts to rout the extremist group from the region all but destroyed the family's home, they, like so many others, are living in temporary accomodation until they can emigrate and put their ordeals behind them.
US-backed forces are making ground against ISIL, with Mosul, one of the largest cities held by ISIL almost liberated, but for a small area on the western bank of the Tigris.
However, it is what is left behind after the fighting stops that is of concern to humanitarian groups.
While Christina and her family will be overjoyed to be together once more, their focus now will be trying to find somewhere to call home.