"I fight for my son": A 360 degree portrait of a Romanian street worker
Comments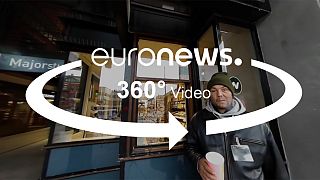 Every day at 5 am Florian-Petrus Cretu gets up to sell "Folk er Folk", a street magazine, in the streets of Oslo. Cretu is 34 years old and was born in Romania, but he's moved around Europe since he was 18.
Before he came to Norway he had lived in France, Italy, Spain, Belgium, to England, to Sweden and Denmark: "I come from everywhere, I don't have a country," he says.
Florian-Petrus Cretu is not alone. Since Romania's entrance into the European Union in 2007 gave its citizens the right to settle anywhere in the EU, Romanian street workers have become a common sight in European capitals.
According to a report from the Rockwool Foundation, Roma people primarily emigrate in a bid for a better life. The living situation for the Roma population in Romania has deteriorated since the end of the cold war. They face discrimination and their low level of education makes it difficult to find a job, especially since the economic crisis. Many see emigration as necessary in order to make a living for themselves and their family.
Florian-Petrus Cretu is one of approximately 250 Romanians in Norway who makes a living selling the magazine Folk er Folk. He lives in an apartment with his wife, who also sells the magazine. Together they have an 8-year-old son, but he stays with family in Romania: "It's too late for me, but I fight for my son," Cretu says.
When he arrived in Norway he was homeless. On lucky nights he slept in the Red Cross shelter set up in the old Oslo church, Misjonskirken. But the number of sleeping places there are limited and they are distributed through a tombola draw. If you pick the right ticket you get to sleep indoors, otherwise you have to spend the night on the streets.
Though he now has a fixed place to stay, Florian-Petrus Cretus life is still full of insecurity: "We don't have insurance for tomorrow. Maybe something happens tonight, and everything is lost. Maybe tomorrow I go to Sweden, Denmark, Italy, everywhere."