Christopher Wray: the next FBI boss?
Comments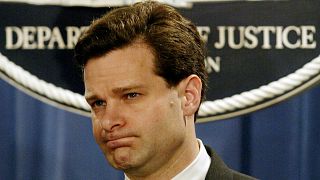 Donald Trump tweeted he is "a man of impeccable credentials", but who is Christopher Wray, the man he plans to nominate as FBI Director?
I will be nominating Christopher A. Wray, a man of impeccable credentials, to be the new Director of the FBI. Details to follow.

— Donald J. Trump (@realDonaldTrump) June 7, 2017
Wray is a lawyer who has previously held senior positions in U.S. government departments, but is now a partner at an international law firm specialising in white-collar crime.
He served as the Assistant Attorney General in charge of the U.S. Department of Justice's (DOJ) Criminal Division from 2003 to 2005 after he was nominated by the last Republican President George W. Bush.
According to his profile for King & Spalding, where he currently works, Wray helped lead the Department's efforts to address a wave of corporate fraud scandals.
The Yale graduate served on President Bush's Corporate Fraud Task Force, overseeing the task force that investigated Enron and other major fraud investigations.
Wray led investigations, prosecutions, and policy development in nearly all areas of federal criminal law, including securities fraud, healthcare fraud, Foreign Corrupt Practices Act and trade sanctions violations, bank secrecy and money laundering offenses, public corruption, intellectual property piracy and cybercrime, and RICO, the profile says.
He also worked on the DOJ's response to the 9/11 attacks and played a key role in the oversight of legal and operational actions in the continuing war on terrorism.
He is currently a litigation partner King & Spalding's Washington, D.C. and Atlanta offices, where he is an expert in white-collar criminal and regulatory enforcement matters, parallel civil litigation, and internal corporate investigations.
Timeline:
1967: Christopher Asher Wray was born
1989: graduated from Yale University
1992: received a law degree from Yale Law School
1993: started working in private practice in Atlanta, Georgia
1997: joined the U.S. Attorney's Office for the Northern District of Georgia
2001: served at Main Justice as an Associate Deputy Attorney General and, later, as Principal Associate Deputy Attorney General
2005: received the Edmund J. Randolph Award, the Department's highest award for public service and leadership
2015: the National Law Journal selected him as a Regulatory & Compliance "Trailblazer"
2017: Donald Trump tweets he plans to nominate Wray as FBI Director