Apple `reinvents` home music with HomePod
Comments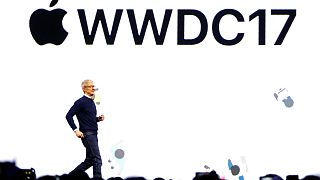 Apple has made a pitch to take on Amazon's Echo with HomePod.
It's a voice-controlled speaker that can make music suggestions and adjust home temperatures.
At the launch Tim Cook, Apple's chief executive said: "We want to reinvent home music."
The speaker has speaker has spatial awareness, says Apple's SVP of Global Marketing Phil Schiller.
"It intelligently and automatically detects the space it is within. And it uses that information to create a spacious sound."
Schiller says Sonos aren't smart speakers and Amazon Echos aren't good speakers. So Apple is hoping that its Homepod will combine the best of both worlds.
Naturally it works seamlessly with Apple Music.
The speaker combines with Siri, so you can ask questions such what are today's headlines, find out the weather and the results of your football team. And if you have HomeKit-enabled devices you can control lights, security, air conditioning and more through the speaker.
It will cost $349 (a little over 300 euros) and Apple hopes to have it in shops in time for Christmas.
Apple innovate once again by copying their competitors and making it double the price. Amazing #Homepod

— Oli Joel (@OligopolyJoel) 5 juin 2017
The move is the first into a completely new area by Apple for more than two years.
The world's most valuable technology company is hoping the launch will distract from a dip in iPhone sales.