UN calls on world to save our oceans
Comments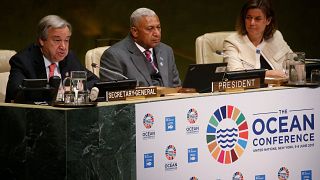 The first-ever UN conference on seas and oceans and their sustainable use has opened in New York with a ceremony lead by group from Fiji.
It comes just days after President Trump's decision to withdraw the United States from the Paris climate accord, casting a long shadow over the five day gathering aimed at agreeing a strategy to reverse our oceans' decline.
An unusual sight at the UN General Assembly to highlight our close relationship with the oceans. #SaveOurOceanpic.twitter.com/Ynpjx4nW7t

— UN Spokesperson (@UN_Spokesperson) June 5, 2017
In his opening remarks the UN Secretary General, Antonio Guterres called on the world to save the oceans:
"Unless we overcome the territorial and resource interests that have blocked progress for far too long, the state of our oceans will continue to deteriorate. We must put aside short-term national gain to prevent long-term global catastrophe. Conserving our oceans and using them sustainable, sustainably, is preserving our life itself."
The UN chief told presidents, ministers, diplomats and environmental activists from nearly 200 countries that oceans—"the lifeblood of our planet"—are being severely damaged by pollution, overfishing and the effects of climate change as well as refuse.
The presence of the ocean touches every living thing, says David Attenborough in BBC</a> Ocean Conf film. <a href="https://twitter.com/hashtag/SaveOurOcean?src=hash">#SaveOurOcean</a> <a href="https://t.co/2aiVRoGJHP">https://t.co/2aiVRoGJHP</a></p>— Global Goals (GlobalGoalsUN) June 5, 2017
The five-day conference, which began on World Environment Day, is the first major event to focus on climate since President Donald Trump announced last Thursday that the United States will withdraw from the landmark 2015 Paris Climate Agreement—a decision criticized by Bolivia's President Evo Morales and other speakers.
However since Trumps's decision, more than 1,000 US governors, mayors, and businesses have declared they will continue to meet the goals of the Paris agreement.
That's according to former New York City Mayor Michael Bloomberg who is as UN special envoy on for cities and climate change.