Arrests made as Portland protesters clash
Comments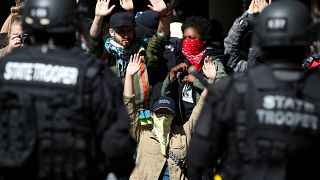 Multiple arrests have been made in the US city of Portland after separate protests organised by alternative-right activists and their opponents resulted in a face-off.
Projectiles were reportedly thrown and weapons confiscated, prompting police to use tear gas and stun grenades.
A pro-President Trump free speech rally was surrounded by three, separate counter-protests organised by the anti-fascist 'Antifa' movement, Portland United Against Hate and labour groups.
Th e scuffles erupted less than a fortnight after two local men were fatally stabbed while defending two teenage girls from anti-Muslim insults.