US voices vow to defy Trump on climate as White House digs in
Comments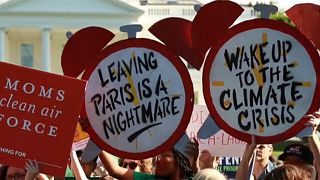 The White House is standing by Donald Trump's decision to pull the US out of the Paris accord on climate change – and refusing to say whether the president believes in the phenomenon or not.
While protesters outside the president's residence in Washington made clear their objections, there are signs of division across the United States.
The Paris Accord undermines U.S. competitiveness and jobs: https://t.co/e4eLHzK1Typic.twitter.com/kXuwZ1zOBN

— The White House (@WhiteHouse) June 3, 2017
The administration's top green official defended America's record:
"We have nothing to be apologetic about as a country. We have reduced our CO2 footprint to levels of the early 1990s, in fact from 2000 to 2014 we reduced our carbon footprint by up over 18 percent. And that has been largely accomplished through innovation and technology, not government mandate, so when we look at issues like this we are leading with action and not words," Scott Pruitt, head of the Environmental Protection Agency (EPA), told a White House briefing.
The Democratic governors of New York, California and Washington states have vowed to respect the Paris deal.
Former New York mayor Michael Bloomberg, now the UN's Special Envoy for Cities and Climate Change, says the US can still meet its commitments.
"The fact of the matter is, Americans don't need Washington to meet our Paris commitment and Americans are not going to let Washington stand in the way of fulfilling it. That's the message that mayors, governors and business leaders across the United States have been sending," Bloomberg said during a visit to Paris.
The Paris accord signed in 2015 by nearly 200 countries, aims to limit global warming to 2 degrees Celsius or less by the end of the century, mainly through emissions cuts.
Evangelical Christian groups – most of whose supporters voted for Trump in last year's election – have strongly condemned the president's move.
One said it showed the administration cared "about the economy and jobs only".