UK: Prime Minister May a no-show at seven-party debate
Comments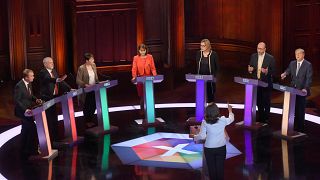 Where is Theresa May? That was the question on the lips of both audience and panel members during a seven-way televised debate between figures from the UK's main political parties.
The British prime minister was conspicuous by her absence at the at-times-heated exchange where welfare cuts, living standards, Brexit and the public sector pay gap were all on the table.
Representing the ruling Conservatives, Interior Minister Amber Rudd defended May, saying "part of being a good leader is having a good, strong team." Continuing with the theme of strength, she added:
"We need to make sure we have that strong economy, and the way to make sure that we have it, is to have a strong negotiating position as we go into leaving the European Union."
The choice at this election #GE2017 : a leader who can get the right deal for the UK or Corbyn & coalition of chaos pic.twitter.com/Jw1t9v61PZ

— Amber Rudd (@AmberRuddHR) May 22, 2017
Leader of the Opposition and Labour Party chief Jeremy Corbyn focussed on the difference in pay between blue-collar workers and executives.
"Our determination is that those who produce the wealth of this country, should benefit from the wealth of this country. What we've seen is a massive gap growing between those that work and those at the top, it's times 186 [wage differential] between those on the shop floor and those in the boardroom. That has to change and we will ensure it does."
There is a clear choice at this election: Labour who will build a Britain #ForTheMany, or the Tories who govern only for the few. #BBCDebatepic.twitter.com/eZj3smrOak

— Jeremy Corbyn (@jeremycorbyn) May 31, 2017
May called the snap ballot in a bid to strengthen her hand during the looming divorce talks with the EU. However, a recent YouGov poll suggests the Conservatives may well fall short of the 326 seats needed to form a government following the June 8 vote.
In a separate survey, it found that Labour had closed the gap with the Tories to four percentage points. Voter intention, according to the pollster, lies at 42 percent for the Conservatives to 39 percent to Labour.