Real Madrid hero Mijatovic previews Champions League final
Comments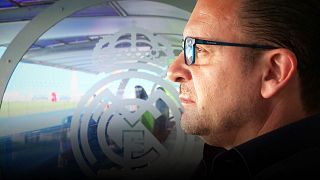 Predrag "Peđa" Mijatovic is known as the hero of the 1998 Champions League final.
The Montenegrin scored the winning goal for Real Madrid against Juventus in Amsterdam.
It gave the Spanish giants their seventh European championship.
Euronews met up with him to talk about that final and the one which will take place this Saturday, once again against Juve.
"We were aware that it was an historical final. We knew about this statistic, 32 years without winning the Champions League. The last time was in 1966 against Partizan Belgrade, which was my team when I was young. We were willing to make history. Because the seventh Champions League was a very desired trophy for all the Real Madrid supporters, so we were very focused."
"We had won six European championships, but people who didn't like Real Madrid were joking, "oh yes, you have six but in black and white".
"It is the most important goal and the sweetest moment of my entire career. There was a clearance, the ball was in their area. As a striker everything you do is by instinct, you have to think fast, kicking the ball is our natural instinct."
"After a long time you realise what you did, how important it was. When you're playing you don't have this feeling but once you've retired you hear people in the streets saying what they felt while watching the match. It's beautiful to hear that."
Juventus and Real Madrid will face each other in Cardiff. Real are attempting to lift the trophy for the second year in a row – a first. The last time Juve won the Champions League was in 1996.
"They are two teams with extremely different styles of play. On one side, Juventus is a defensive team, well positioned in the field, they'll be waiting for any little mistake from Real Madrid. And then Real are more creative. They have great football players, like Cristiano, Bale if he plays, Isco, Modric in the midfield… It will be a very tight final."
"Buffon is at the top of his game this season both in the Italian and Champions league. It is a huge bonus for Juve, the defensive line. I don't know if they will play four or three, they are very experienced players. Then just in the front there is Dybala, who is very creative. He's magic. If he has a good day he is capable of deciding the match. And then there is Higuain. He will be extra motivated, he's playing against his former team and he's desperate to win the Champions League."
"As for Real Madrid, of course I have to mention Sergio Ramos in defense. He's the captain, he's a leader. He's very good in these kind of matches. In the important games he's one of the best. Not just in terms of his job in the back line but he is lethal on the strategic side. In the midfield I would also like to mention Luca Modric. He makes everything look easy and simple, when you see him playing you think that football is an easy thing but it's not like that. And of course there is Cristiano Ronaldo, Benzema, Bale."
"In this final I think Real Madrid has a slightly better chance than Juve. I don't usually do that but now that we're here relaxed, I'm going to say 2-0 for Real Madrid."
The kick-off in Cardiff for Saturday evening's final is at 20:45 CET.