Eurosport's Henri Laconte apologises for applauding Maxime Hamou's TV kiss
Comments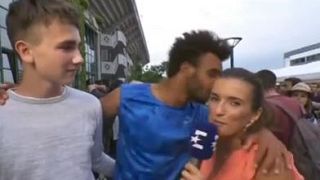 Eurosport's tennis correspondent Henri Leconte has apologised for his response to Maxime Hamou, after the French player kissed and cuddled a journalist during a live interview.
Hamou was banished from the French Open by his tennis federation on Tuesday following his unwanted advances towards Maly Thomas following his first-round exit.
Bravo a la fédération qui a trouvé ca moins marrant que les consultants en plateau
Accréditation retirée pr #Hamoupic.twitter.com/2ehSgDaALc

— Emmanuel Foulon (@efoulon1) 30 mai 2017
Footage of the interview showed Hamou pulling the female journalist close before kissing her on the side of the head.
As the reporter looked embarrassed and tried to push him away, he kissed her again. After answering a question Hamou, who is ranked 287 in the world, kissed her a third time, and pulled her towards him while she tried to peel his hand off her chest.
Eurosport's Leconte laughed, applauded and shouted "fabulous" as Hamou locked his arm around Thomas' neck during the live interview.
He later issued a statement: "I wanted to go back to the incident last night concerning the duplex with our reporter Maly Thomas and the player Maxime Hamou.
"I want to make it clear that we do not endorse this type of behavior. Maly is a great professional who deserves an apology," said the former grand slam winner.
"Our live response was also not appropriate, we should have intervened quickly. We apologise to our viewers."
People took to social media to denouce the player. It follows questions regarding sports' attitudes to women. One tweet said in a normal world, Hamou and the TV journalist would be in court for sexual aggression.
Wimbledon recently banned former champion Ille Nastase after his behaviour was called into qustion during Britain's Federation Cup match tie with Romania earlier this year.
Dans un monde normal, Maxime #Hamou serait au tribunal pour agression sexuelle et les journalistes qui rigolaient dégagés de l'antenne.

— claude askolovitch (@askolovitchC) 30 mai 2017