Portland stabbing: Who are the victims?
Comments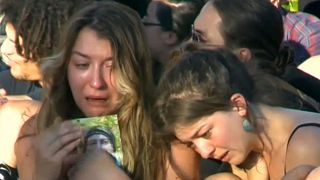 On Friday, two people were killed in Portland, Oregon, USA, while trying to defend a Muslim teenager from abuse on a train.
Taliesin Myrddin Namkai-Meche and Ricky John Best were stabbed after intervening when Jeremy Joseph Christian allegedly shouted "all Muslims should die", among other slurs, at two teenagers. One was wearing a hijab at the time.
Micah David-Cole Fletcher was also injured in the attack.
MAX stabbing victim Micah Fletcher recovering in hospital, but has a long way to go. https://t.co/hTsiFGcL0vpic.twitter.com/4dxl9pmgH8

—

KOIN

News (@KOINNews) May 29, 2017
The three men have been hailed as heroes by the local community, and close to 1,000 people gathered for a vigil in memory of Namkai-Meche, 23, and Best, 53.
Taliesin Myrddin Namkai-Meche
Namkai-Meche was a recent Economics graduate from Portland's liberal Reed College. In a statement, his family said he "lived a joyous and full life", and described his enthusiastic demenour as "infectious".
After graduating, Namkai-Meche had found work with the Portland consultancy firm Cadmus Group, and his family say he had recently purchased a property in the city.
President of the Cadmus Group, Ian Kline, described Namkai-Meche as a "bright, dedicated, and kind-hearted colleague and a good friend to many throughout Cadmus". He added that: "His heroic actions represent the best of what we all hope to be".
Friends from Namkai-Meche's home town of Ashland, in southern Oregon, said: "Taliesin was the kind of guy who made you believe that you can be bigger than yourself".
Another childhood friend added that: "If he knew he was going to die, he still would have done what he did".
Ricky John Best
Ricky John Best was an armed forces veteran, who served in the conflicts in Iraq and Afghanistan during his 23-year military stint.
The 53-year-old was an Oregon native, having grown up in the state capital Salem, and met his wife studying at Portland Community College before joining the army.
The father of four had been on his way back from his work as a technician at the city's Bureau of Development Services when he overheard the abuse on the MAX train.
Best's boss Kareen Perkins praised him as a dedicated employee, and quoted his co-workers saying: "it's just like Rick to step in and help somebody out".
City commissioner Chloe Eudaly said in a statement: "Losing a colleague is hard. Losing someone under these circumstances makes it even worse. We are very saddened at the loss of Rick and we will remember him fondly as we move forward".
Reaction
Sixteen-year-old Destinee Mangum, who was allegedly the target of Christian's tirade, said: "I just want to say thank you to the people who put their life on the line for me, because they didn't even know me and they lost their lives because of me and my friend and the way we look".
There has been an outpouring of grief and gratitude on social media, praising the victims and using the hashtag "PortlandHeroes".
Support the #Portlandheroespic.twitter.com/leitWaMGZr

— Khaled Beydoun (@KhaledBeydoun) May 29, 2017
Portland Heroes:
Ricky John Best
Taelisin Myrddin Namkai Meche
Micah David-Cole Fletcher (wounded in hospital)

Thank you. pic.twitter.com/iL6Pj5aMc0

— Kelli Russell Agodon (@KelliAgodon) May 27, 2017
trimet</a> Police: Men killed in MAX attack are Ricky John Best, 53, & Taliesin Myrddin Namkai Meche, 23. Micah David-Cole Fletcher is recovering. <a href="https://t.co/CNhbTlkH81">pic.twitter.com/CNhbTlkH81</a></p>— Katherine Cook (KCookKGW) May 27, 2017