'Hands off our homes': Moscow rally for Soviet-era buildings
Comments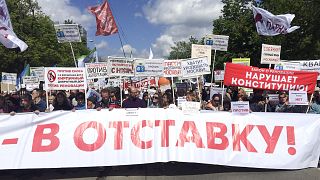 There is anger in Moscow at plans by the authorities to pull down shoddy Soviet-era apartment blocks and resettle hundreds of thousands of people.
While modern flats are envisaged for some uprooted Muscovites, many want to stay where they are.
Sunday saw thousands take part in the latest rally against the project in the Russian capital.
Some called for the Moscow Mayor Sergei Sobyanin to quit.
Thousands protest demolition of Soviet-era housing in Moscow https://t.co/vmoLW7F240

— UPI.com (@UPI) 14 mai 2017
Protest organiser Alexander Artemyev explained that a lot of the buildings earmarked for destruction are actually still in good shape.
He claimed that they are subject to demolition because the land they were built on is valuable.
Moscow residents are also concerned about the location and quality of the planned new accommodation, a lack of services and infrastructure and about threats the redevelopment may pose to the historic face of the Russian capital.
And many fear losing the sense of community they have built up over the years in their existing dwellings.
Olga Melikhova, 79, is one of those concerned.
Proud of her apartment, she is desperate to stay put.
"Everything here is dear to me," she said.
"I have lived here for 30 years. Of course I don't want to go anywhere else."
A vote has been organised to give residents their say on whether their apartment blocks should be torn down.
But critics claim the process is flawed in favour of a 'yes' vote.
The protests over housing in Moscow speaks volumes about old Soviet habits and new realities https://t.co/JdMsagRqrRpic.twitter.com/Ay7zMyUk1d

— NYT Opinion (@nytopinion) 17 mai 2017
In the 1950s, the Soviet Union began mass-producing cheap, prefabricated housing to accommodate millions of people who had been living in overcrowded communal flats and even in cellars and dugouts dating from World War Two.
The then-Soviet leader, Nikita Khrushchev, said the apartments, with low ceilings and tiny kitchens and popularly dubbed "khrushevki" after him, would be lived in for no more than half a century. Most are still occupied.
with Reuters