[Watch] Endangered baby elephant takes his first steps
Comments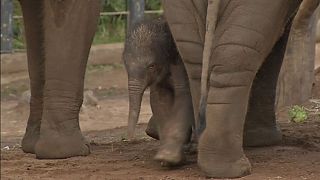 A zoo in Australia has been showing off a rare new arrival – the birth of its first Asian elephant calf in nearly seven years.
Sydney's Taronga Zoo said the unnamed male baby weighed in at 130 kilograms and was standing within five minutes of the birth.
The zoo said that the latest arrival will be a second for mother Pak Boon, who delivered a female calf named Tukta in 2010.
Asian elephant numbers continue to decline globally due to habitat loss and poaching, with around 30,000 to 50,000 estimated to remain globally, according to the zoo.