Sydney coroner says police acted too slowly in cafe siege
Comments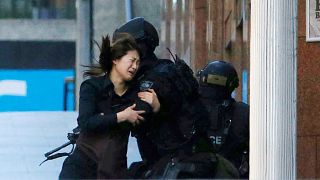 An Australian coroner says police failed to act quickly enough in a Sydney cafe siege in 2014 that left three people dead.
Gunman Man Haron Monis held hostages for 16 hours before opening fire inside the cafe with a warning shot.
The New South Wales State Coroner, Michael Barnes, said:
"I conclude that after a brief period to allow officers to gather relevant information, an emergency action ought to have been initiated following Monis' first shot at 2:03 am.
"The ten minutes that elapsed without decisive action by police was too long.
"Tori Johnson was executed in the meantime, before police had made a decision about whether to enter the cafe."
Tori Johnson, the manager of the cafe, was among 18 hostages.
Lawyer Katrina Dawson was killed by fragments of a bullet fired by police.
Officers shot and killed the gunman, who had reportedly sworn allegiance to ISIL not long before his attack.