Trump to Abbas: Peace can't take root if violence is tolerated
Comments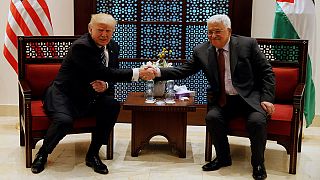 Donald Trump and Palestinian Authority President Mahmoud Abbas held a joint press conference after meeting on the last day of the US president's visit to the Middle East.
Mr Trump firstly expressed his condolences to the people of Manchester saying: "we stand in absolute solidarity with people of the UK," branding the perpetrators "evil losers in life".
He labelled Bethlehem, where the meeting took place, "a precious city" and said he intended "to do everything he could" to achieve a peace agreement between the Israelis and Palestinians.
Mr Trump went on to say: "Peace is a choice we must make each day and the US is here to help make that dream possible for young Jewish, Christian and Muslim children across the region."
Palestinians held angry protests against the visit in both the West Bank and Gaza.
The US leader yesterday stressed the strong bonds between the US and Israel.
When asked about a possible peace deal with the Palestinians, the ex-businessman said: "I've heard it's one of the toughest deals of all."
Later today Mr Trump will deliver a speech at Israel Museum.