UK election campaign suspended after Manchester attack
Comments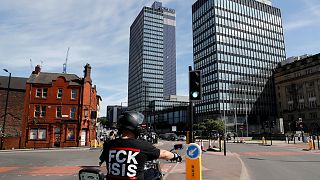 Campaigning ahead of the UK general election was immediately suspended after the attack in Manchester, which killed at least 22 people.
Prime Minister Theresa May had been due to visit the south west of England but was forced to meet her top security advisers.
Speaking to Euronews, Michael Bruter from the London School of Economics said the bombing could help the ruling conservatives who had recently seen a drop in support in the polls.
"When there are terror attacks, it tends to strengthen extremist parties and it tends to strengthen more right-wing political parties. The more indirect element is that such attacks usually create a bit of a break in the campaign.'' Bruter said.
Bruter added, ''The campaign is being interrupted at a time when the Conservative Party was losing a lot of its lead, so the question is whether that interruption will enable them to erase, if you want, that negative dynamic for them.''
I could actually go back to the issue of safety, strong leadership which is the framing Theresa May has tried to impose on the campaign from the start. Her main argument has been stability, we need a strong majority, we need strong government and in a way, the terror attack is the sort of argument she will be using.''
It is still not known how long campaigning will be suspended.
It is thought that senior figures from all the UK's main political parties are holding talks over what steps to take.