Turkey's coup suspects go on trial
Comments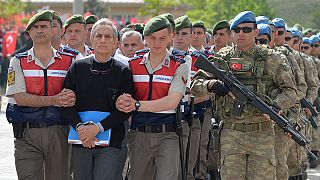 Turkey put on trial 200 suspects on Monday including senior military officers accused of plotting last year's failed coup.
Among them are President Recep Tayyip Erdogan's ex aide-de-camp, the former head of the air force, and dozens of generals, colonels and majors.
They now face life sentences and were paraded to court past dozens of demonstrators demanding the death penalty, which Turkey abolished in 2004 but Erdogan has pushed to reinstate.
#Turkey puts some 200 suspected coup plotters, many of them high-ranking soldiers, on trial amid heavy security https://t.co/Y6etL8wV6F

— Humeyra Pamuk (@humeyra_pamuk) May 22, 2017
More than 240 people, many of them civilians, were killed in the failed coup on July 15, 2016, when a group of rogue soldiers commandeered tanks, warplanes and helicopters, bombing the parliament and attempting to overthrow the government.
Erdogan blames Fetullah Gulen, a U.S.-based cleric and a former ally, and his global network for orchestrating the coup, a charge Gulen – who is among among those being tried in absentia – denies.
Hearings at the trial are expected to last until June 16.
Amnesty Slams Turkey Over Post-coup Crackdown https://t.co/NFxr0kkeX4pic.twitter.com/98Jw21j05O

— The Voice of America (@VOANews) May 22, 2017
Crackdown
Since last July, Turkish authorities have arrested nearly 50,000 people over alleged links with Gulen, sacked or suspended around 150,000 civil servants, teachers, judges, prosecutors, police and soldiers, and shut down around 150 media outlets.
Many relatives of those detained or sacked say they have nothing to do with the attempted putsch and are victims of a purge designed to consolidate Erdogan's control.
Human rights group Amnesty International published a new report on Monday voicing concern that many of the dismissals were "arbitrary, unfair and/or politically motivated."
New amnesty</a> piece on deep and widespread impact of 100,000+ people fired in <a href="https://twitter.com/hashtag/Turkey?src=hash">#Turkey</a> after coup attempt <a href="https://t.co/fyHJadis5L">https://t.co/fyHJadis5L</a> <a href="https://twitter.com/hashtag/Turkeypurge?src=hash">#Turkeypurge</a> <a href="https://t.co/gviCRqXdS3">pic.twitter.com/gviCRqXdS3</a></p>&mdash; Tirana Hassan (TiranaHassan) May 22, 2017