RBS tries to settle embarrassing court case
Comments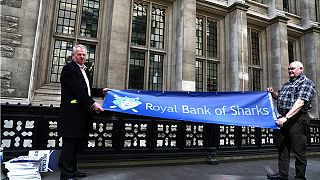 A compensation court case against Royal Bank of Scotland which was due to start on Monday has been postponed after the lender made a last-minute settlement offer.
RBS is being sued by thousands of people who invested in the bank during the 2008 financial crisis only to see the value of their shares plummet.
The investors claim RBS misled them, deliberately concealing its financial weaknesses before selling 12 billion pounds worth of new shares.
RBS has denied that, but did reach a settlement with 87 percent of the investors who originally brought the case.
A successful settlement now would save the bank from a potentially embarrassing trial about the events leading up to its near collapse.
It would also spare former RBS Chief Executive Fred Goodwin from facing scrutiny in the courts over his much criticised decision-making and leadership.
RBS shareholders take battle over cash call to high court https://t.co/BG0s32nji4

— TheWebLenderPortal (@TheWebLender) May 22, 2017
RBS court battle adjourned for 24 hours for settlement talks https://t.co/6ldBVV1gVWpic.twitter.com/rAeuKnSokP

—

ITV

News (@itvnews) May 22, 2017
Reportedly the bank is offering more than 80 pence for each RBS share held, though it was not clear if any investors have accepted the offer. They were originally sold for 200 pence each.
RBS was bailed out with public money and is still more than 70 percent state-owned.
Who is suing?
The outstanding group represents about 9,000 retail shareholders and 20 institutional investors. The large investors include US bank Wells Fargo, the Boeing pension fund, Bank of America Merrill Lynch and local British council pension funds.
Then into Rolls Building for the RBS</a> Rights Issue Trial.I have helped,provided intelligence,aided media and encouraged this Group for 5 yrs <a href="https://t.co/Xr70vWIuhr">pic.twitter.com/Xr70vWIuhr</a></p>&mdash; NEIL MITCHELL (RNW_MITCHELL) May 22, 2017