Man set on fire as violent turmoil sweeps Venezuela
Comments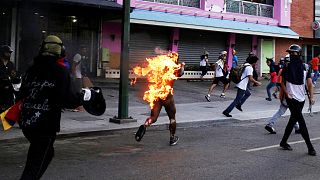 The violence in Venezuela is growing ever more brutal as the country enters a 50th day of protest against the rule of president Nicolas Maduro.
A man was set alight during an anti-government rally in Caracas.
Extraordinary turnout for demonstrations in Venezuela this weekend. #MaduroMustGopic.twitter.com/8xju4SPSD6

— ian bremmer (@ianbremmer) May 21, 2017
Protesters claim the man was a thief and was doused in petrol and ignited.
The president said he was attacked because he was a 'Chavista' from the ruling Socialist Party.
Death toll rises as protests continue in #Venezuelahttps://t.co/ANFhLzeATepic.twitter.com/I19kOvKFEe

— dwnews (@dwnews) May 22, 2017
Maduro went on television to denounce the attack:"We've never, ever seen a person set on fire here, like the way ISIL terrorists do it in the Middle East. That a person was set on fire, beaten up, they stabbed him four times. They hit him and nearly lynched him, just because someone shouted out that he was a 'Chavista', or because someone else shouted out that he was robbing them."
The victim is now in hospital.
Scores of people have been killed in the protests.
Venezuela is in full-blown crisis, food and medicine are in short supply, looting and a break down of law and order is widespread.
The opposition accuse the government of attacking the democratic institutions and economic mismanagement.
.david_grantham1</a>, a national security analyst, writes in townhallcomthat Venezuela could easily become a Syria https://t.co/XNY555FdrY

— The Washington Times (@WashTimes) May 22, 2017
.