Swiss referendum on renewable energy
Comments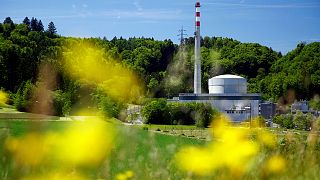 Swiss voters are set to back the government's plan to provide billions of euros in subsidies for renewable energy, ban the construction of new nuclear plants and help bail out struggling utilities according to opinion polls.
Basing projections on partial results, pollster Claude Longchamp said the level of support in a referendum in Switzerland on Sunday "will be above 55 percent and thus far above any area of doubt".
Is this a surprise?
No. Opinion polls had suggested the new energy law would be approved in the country's binding referendum.
However, support has slipped in the run-up to the vote.
The debate
Debate on the "Energy Strategy 2050" law has focused on what customers and taxpayers will pay for the measures.
Under the law, 480 million Swiss francs (approx 440 million euros) will be raised annually from electricity users to fund investment in wind, solar and hydro power.
An additional 450 million francs (approx 412 million euros) will be set aside from an existing fossil fuels tax to help cut energy use in buildings by 43 percent by 2035, compared to levels from the year 2000.
What do the critics say?
That a family of four would pay 3,200 Swiss francs (almost 3,000 euros) in extra annual costs.
Questions have also been asked over whether a four-fold rise in solar and wind power by 2035, as envisaged under the law, can deliver reliable supplies.
It has been argued that more intermittent wind and solar energy would mean a greater reliance on imported electricity.
Switzerland was a net power importer in 2016.
What do supporters say?
That the new law would help utilities which currently rely on hydro power. Their costs currently exceed wholesale prices in Europe.
Energy Minister Doris Leuthard dismissed estimates of price increases as highly inflated
She said the package would cost the average family 40 francs more a year, based on a higher grid surcharge to fund renewable subsidies.
How much solar and wind energy does Switzerland currently use?
Not much. Solar and wind now account for less than five percent of the country's energy output.
That is compared to 60 percent for hydro and 35 percent for nuclear.
Under the new law, power from solar, wind, biomass and geothermal sources would rise to at least 11,400 gigawatt hours by 2035.
That is compared to 2,831 now.
How many nuclear plants are there in Switzerland?
Five. The first is slated to close in 2019.
Voters have not set a deadline for the rest to be closed. They will bea allowed to run as long as they meet safety standards.
The law will ban the construction of new plants.