South Korea and Japan condemn North Korea 'missile launch'
Comments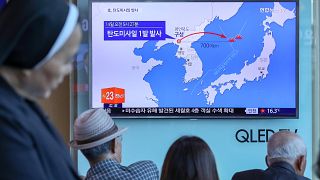 Both South Korea and Japan have voiced concerns following reports North Korea launched a medium-range ballistic missile from near its northwestern coast.
South Korea's military announced that its neighbours in the north had fired an "unidentified projectile" from a location near Pukchang. In April, a missile exploded soon after take-off from the same area.
Seoul later specified that a missile had been launched and added:
"North Korea's repeated provocative action went against our government and international community's expectations and desire to establish peace and denuclearisation on the Korean peninsula," said Foreign Ministry spokesman, Cho June-Hyuck.
Japan's Prime Minister Shinzo Abe says he'll bring up the issue of Pyongyang's missile tests at the next G7 Summit.
"There will be a G7 meeting this week. I intend to make this a main issue there and properly debate it. And I want to see the G7 deliver a clear message.
It is important to coordinate with not only South Korea and the United States but also with China and Russia," he insisted.
The projectile, which is said to have had a range of around 500km, reportedly landed east of North Korea, outside Japan's exclusive economic zone.
A week earlier, the United Nations Security Council told Pyongyang not to carry out any more missile tests.