Moscow residents try to turn back the bulldozers
Comments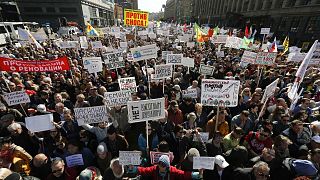 The developers are stalking Moscow looking for juicy redevelopment opportunities as the city with the world's largest concentration of billionaires looks to the skies with high-rise developments.
But residents of the low rise "khrushchevk" blocks put up in the 1950s and 60s in response to a housing crisis that are scheduled for demolition are angry.
In #Moscow, up to 20,000-30,000 residents #protest|ed against the citywide programme of housing renovation today:https://t.co/wJSvFVw730pic.twitter.com/wCh4653deJ

— Alex Kokcharov (@AlexKokcharov) May 14, 2017
"I am here because the constitution is being demolished, the legislation is being breached. Our right to private property is being breached. Instead of it, via fradulent means, via 'active citizens,' they are trying to deprive us of our private property," said one woman.
"This is all ridiculous. We can't sleep for two months. We are newlyweds and now thinking about having children. What if we get a child and tomorrow are thrown out on the street? And with such stress, it is hard to make a baby," said one man.
Protesters insisted their grievances were not political, and when opposition leader Alexei Navalny turned up in support people asked him to leave.
#Russia's #opposition leader Alexey Navalny</a> joined today's <a href="https://twitter.com/hashtag/protest?src=hash">#protest</a> rally in <a href="https://twitter.com/hashtag/Moscow?src=hash">#Moscow</a> - only to be removed promptly<a href="https://t.co/3b4n3yRKuV">https://t.co/3b4n3yRKuV</a> <a href="https://t.co/GtvOAT2aom">pic.twitter.com/GtvOAT2aom</a></p>— Alex Kokcharov (AlexKokcharov) May 14, 2017
Residents note substandard housing elsewhere is left untouched while decent well-built homes are being destroyed if they are located in postcodes the rich want to move into. They fear gentrification will force them out, despite being promised equivalent homes in the new development.
Many fear a high-rise future after living so so long in a five-storey block. Most of the krushchevk buildings have become leafy suburbs with the passage of time. The new developments lack that maturity, and are further from the centre.
They also fear that corruption is driving the process not the desire to improve peoples' lives, and could also mean they will be cheated of their new homes, or moved somewhere less desirable, or that the new homes will fail to live up to the developers' promises.