Marchers condemn latest death in Venezuelan protests
Comments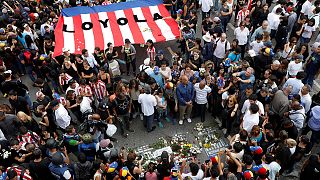 People have marched in Caracas in Venezuela in memory of Miguel Castillo, a young anti-government protester who became the 39th victim of the current street protests when he was killed on Wednesday.
The government says the protests are orchestrated by the opposition and is trying to tough out the crisis, claiming the US is trying to foster a coup.
"We are showing our unity with his family, to his community and more importantly, the country. We can not rest with our arms folded nor can we continue to be alone confronting these terrible things, such as the loss of a young man's life for the crime of wanting a better country," said one man.
Some of the recent marches have drawn hundreds of thousands of people and the crowds appear to be more mixed than before and no longer dominated by more affluent citizens.
In the meantime the government continues its efforts to bypass the constitution by setting up a new "constituent assembly" to amend it and reform public powers.