Ex-Brazil President Lula appears in court on corruption charges
Comments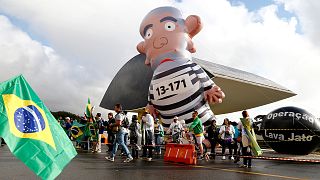 A much anticipated face-off between a former Brazilian president and a crusading anti-graft judge has taken place far from the public gaze.
I'm getting ready to be again a candidate for the Presidency of the Republic

Former Brazilian President
Luiz Inacio Lula da Silva, reportedly gave a fiery defence during several hours of testimony relating to the first of five corruption charges.
If many in Brazil are supportive of Judge Sergio Moro, there are equally thousands of others backing the popular Lula.
Live shot of thousands of demonstrators in Curitiba supporting #Brazil's Lula pic.twitter.com/vUtmRh57kA

— David Biller (@DLBiller) May 10, 2017
In a rally after his court appearance the ebullient Lula dismissed the charges as a political witch hunt.
"I'm alive and I'm getting ready to be again a candidate for the Presidency of the Republic", he said and later appeared with ally, impeached president Dilma Rousseff.
Tension grips Brazil as ex-president Lula appears in court on corruption charges https://t.co/K0iyRbauBrpic.twitter.com/2rMaziQIEs

— Engineer Aliyu (@engraliyu80) May 10, 2017
Lula is accused of receiving a beach apartment in return for helping the OAS construction firm win government contracts.
He is the highest-profile defendant in Brazil's sprawling corruption probe linked to the state oil company Petrobras. It's an investigation which has greatly expanded since it began three years ago and now encompasses several state-run companies.
More than 90 powerful businessmen and politicians have been convicted, and scores of sitting federal congressmen and one-third of President Michel Temer's cabinet are being probed.
If found guilty of one or all of the five charges against Lula, the 71-year-old is likely to be given a prison sentence.
Brazil's pro-Lula top trending tag is #MoroPersegueLula, which roughly means Moro Hounds Lula, describes the unfair treatment given to him.

— Gringa Brazilien (@GringaBrazilien) May 10, 2017