Turkey brands US supplying arms to Syrian Kurds 'unacceptable'
Comments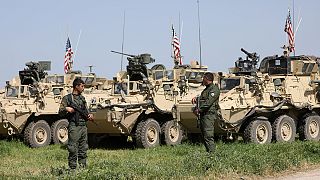 Turkey has slammed the decision by its NATO ally, the United States, to supply weapons to Kurdish fighters battling ISIL in Syria.
For Ankara, Kurdish YPG forces are no different to the outlawed Kurdistan Workers Party or PKK, which has waged an armed insurgency in Turkey for decades.
But the Pentagon sees arming Syrian Kurds as necessary in liberating Raqqa, the so-called Islamic State group's de facto capital in the country.
The US has long directly supplied arms to the Arab components of the so-called Syrian Democratic Forces, which include YPG fighters.
One US official, speaking on condition of anonymity, said the equipment for the Kurdish elements could include small arms, ammunition, machine guns, armoured vehicles and engineering equipment.
Turkey's anger is no surprise. Its warplanes have targeted YPG fighters with air strikes.
On Wednesday, Turkish Foreign Minister Mevlut Cavusoglu said that every weapon obtained by the YPG constitutes a threat to Turkey.
Turkey's Deputy Prime Minister Nurettin Canikli said the US move to arm the YPG was 'unacceptable'.
We cannot accept US to arm YPG: Turkish deputy PM https://t.co/plscnUPaazpic.twitter.com/8FlWa408zh

— Hürriyet Daily News (@HDNER) 10 mai 2017
US Defence Secretary Jim Mattis, who has been visiting Lithuania, believes tensions with Ankara can be resolved.
We'll work out any of Turkey's concerns: US Defense Secretary Mattis https://t.co/rzNAsypMsGpic.twitter.com/WYxL7eVbwB

— Hürriyet Daily News (@HDNER) 10 mai 2017
However the decision to arm the Syrian Kurds will likely cast a shadow over Turkish President Recep Tayyip Erdogan's visit to Washington next week, policy experts said.
with Reuters