Moscow military parade celebrates victory over Nazi Germany
Comments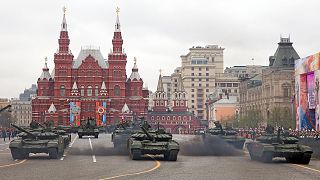 Russia showed off its military might on Tuesday at an annual parade on Red Square celebrating victory over Nazi Germany in the Second World War.
Some 72 years on, feelings still run high over the sacrifices made by the Soviet Union. It lost more of its citizens than any other country in the conflict – around 25 million.
Addressing the parade in Moscow, President Vladimir Putin said: "No force will be able to dominate our people."
"I congratulate you on Victory Day, when greatness is defined by the people, by their unprecedented heroic deed – the salvation of the Fatherland and heroic, decisive contribution to the defeat of Nazism."
Soviet Union victory over fascism to forever remain in history – #Putinhttps://t.co/Zx6znLL5Zw#VictoryDay#VDaypic.twitter.com/qYyrLgCjEK

— Sputnik (@SputnikInt) 9 mai 2017
'We were schoolchildren thrown into war': #WWII hero recalls bravery & horror on Eastern Front https://t.co/v0dM5bThufpic.twitter.com/NtGnjgmIIO

— RT (@RT_com) 9 mai 2017
An aerial show by Russia's air force, including warplanes that have flown missions to support Syrian President Bashar al-Assad's army, was cancelled because of low visibility.
But among the military hardware rolled out were air defence systems built to operate in sub-zero Arctic conditions.
Russia showcases new #Arctic Tor and Pantsir defense systems at #VictoryDay Parade in Moscow https://t.co/b5zQ4SZ2Xh#military#VDaypic.twitter.com/Q0sTW87jgr

— Sputnik (@SputnikInt) 9 mai 2017
The Kremlin has been flexing its military muscle in the hydrocarbon-rich Arctic region, as it vies for dominance with rivals Canada, the United States and Norway.
Despite Moscow's tense relations with the West, Putin urged worldwide cooperation to combat terrorism and extremism.
From old soldiers to young children, Victory Day is marked across Russia – on May 9 because it was already past midnight in Moscow when Germany's surrender document was signed late at night on May 8 in Berlin.
with Reuters