Climate envoys meet in Bonn despite Trump threat over Paris deal
Comments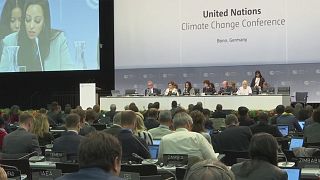 Under the shadow of a possible US pullout from the 2015 Paris climate accord, envoys are meeting in Germany on implementing the details of the deal.
But speculation has increased that President Donald Trump may withdraw America over fears it could hamper his oil and gas reforms.
Many nations and NGOs are urging Trump to stay in the global agreement.
"The US has a large role to play in helping to chart and lead the world and if they pull out we really loose the ability to do that," said David Burns from the National Wildlife Federation.
There have been suggestions that the US might stay in, if it's allowed to lower its carbon targets. But delegates in Bonn say countries should raise not cut their commitments. Trump's advisers are due to review their position this week. Reports suggest Ivanka Trump will chair the meeting.
The Paris accord calls for the limiting the global average temperature increase since the industrial revolution to 2 degrees Celsius or less. The deal is backed by governments as diverse as China, OPEC oil producers and the poorest African states.
Discover NewClimate Institute contributions to Bonn #UNFCCC meetings #SB46 at https://t.co/0JJuAfkpIqpic.twitter.com/EABYAawvZV

— NewClimate Institute (@newclimateinst) May 8, 2017