Toxic cloud sparks safety alert south of Rome
Comments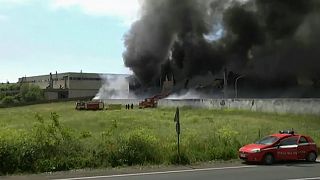 A fire at a rubbish depot south of Rome sent a toxic cloud into the skies on Friday, forcing nearby homes and schools to be evacuated.
People living in towns near Pomezia, 50 kilometres from the Italian capital, were told to keep their windows shut to avoid breathing in fumes from plastics and other materials.
As emergency crews battled the blaze, prosecutors opened an investigation into possible arson. No one has been injured.
Homes near Pomezia fire evacuated (2) - Blaze at trash-storage site sends out massive plume of smoke https://t.co/81s6ZXfiZr

— Ansa English News (@ansa_english) 5 mai 2017
The fire is now out but the smoke cloud has lingered due to a lack of winds to disperse it.