Marathon: Breaking the 2-hour barrier
Comments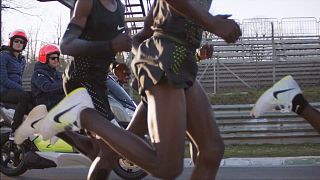 On Saturday morning, three athletes will set out to attempt to break the two-hour barrier for the 42 kilometre marathon distance.
Eliud Kipchoge of Kenya, Eritrea's Zersenay Tadese and Ethiopia's Lelisa Desisa will make the attempt by running around the Monza motor-racing track in Italy which is home to the Italian Formula 1 Grand Prix. The event is sponsored by sportswear giant Nike.
Nike's Vice- President of Innovation footwear, Tony Bignell told reporters:
"We know the turns, by turning it gives you more energy wasted, so the bigger the ovals and the arcs makes you more effective and efficient. Of course it needs to be fairly flat and it needs to be a really clear surface so there were many options considered but the Monza track just felt like it had the best of all of those worlds combined together."
The record attempt which is not sanctioned by the International Association of Athletics Federation (IAAF), is seen by some as an irresponsible PR stunt by Nike.
The athletes will, however, be carefully monitored by medical staff. To break the barrier would require runners to maintain an average speed of 21.08 km per hour, something widely believed to be humanly impossible.
"Running under two hours will mean no human has limitations," said Kipchoge before the attempt. "So I am running on Saturday to prove to any human in this universe that there are no limitations. We need to push and stretch beyond our thinking."
(Agencies)