Latin American nations denounce Venezuela violence
Comments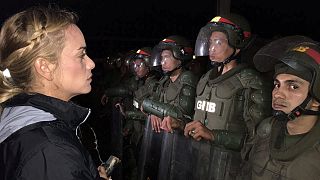 Eight Latin American nations have denounced what they call "excessive use of force" by Venezuelan authorities.
Argentina, Brazil, Colombia, Costa Rica, Guatemala, Honduras, Mexico and Paraguay – condemned the increasing violence in the oil-producing nation and urged the Venezuelan government to respect the human rights of its citizens.
Nearly 40 people have died and hundreds either injured or arrested after a wave of violence in the country.
Earlier this week, a police armoured vehicle was caught on camera ploughing into a group of protesters. It is believed at least one person got stuck underneath and is severely injured.
Fueled by chronic shortages of basic goods, the anti-government unrest began in late March and has been further energized by President Maduro's attempt to rewrite the constitution.
Meanwhile, despite the release of a so-called 'proof of life' video, the wife and supporters of Venezuela's jailed opposition leader Leopoldo Lopez continue to wait for news amid on-going rumours he is in a critical condition at a Caracas military hospital.
Lopez's wife, who has not been able to see her husband for a month, has said the only proof of life she will accept is to see her husband.